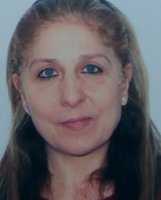 Anahid Der Sarkissian
Anahid Der Sarkissian, Age 55, of Cliffside Park, NJ passed away on October 10, 2018. Devoted Mother of Edmond and Lena Boutros. Dear Sister of Silva Kradjian, Jacqueline Budak, George Der Sarkissian, Noushig Torossian, Sonia Budak.
Anahid was born November 12, 1963 in Aleppo, Syria to the late Jamil and Takouhie (née Boyadjian) Der Sarkissian and came to the US in 1977 and lived in Cliffside Park, NJ. She was a homemaker.
Visiting on Monday, October 15, 2018 from 9:30 to 10:30 AM at St. Vartanantz Armenian Apostolic Church, 461 Bergen Boulevard, Ridgefield, NJ. Religious Service at 10:30 AM at the Church. Interment to follow at Fairview Cemetery, Fairview, NJ