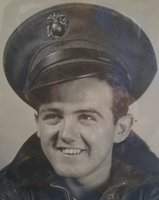 Thomas E Savige
Thomas E. Savige Age 95, of Raleigh, NC passed away in the Lenoir UNC Hospital in Kingston, NC on November 24, 2018. During World War II, Tom served in the United States Marine Corp from Nov 1942 - Nov 1945. After the war, Tom worked for Chrysler Jewelry in North Bergen, NJ. Later , he was employed by Feldner Cadillac in Hackensack, NJ until his retirement in 1989. In 1949, Tom married Helen Jarocka from Cliffside Park where they enjoyed 65 years together. Tom was an active member of the VFW of Fairview and a parishioner of Sacred Heart Church, North Bergen and an Usher. He was loved by everyone and touched many lives through his kindness and concern for others.
Survivors include his son-in-law Robert E Vilak and his wife Pauline, who brought him down to NC into their home and cared for him for three wonderful years. Grandson Robert E Vilak Jr. and his wife Maureen and their two sons Daniel and Thomas Vilak, Granddaughter Karen Cochran her husband Dennis and their children Jake and Nikki Cochran.
Tom was preceded in death by his Beloved Wife Helen Savige in 2014 and his loving Daughter Irene Vilak in 2004. Entombment Services on Thursday, November 29, 2018 at 1:30 PM at the Fairview Mausoleum, Mauro Chapel, Fairview, NJ.