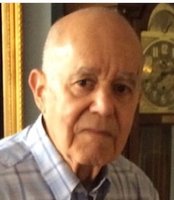 Antonio Leon
Antonio Leon, Age 86 of North Bergen, NJ passed away on April 10, 2019. Devoted Husband of Irmina ( née Blasquez). Beloved Father of Antonio A Leon. Loving Uncle of Dennis Leon.
Antonio was born in Cayo Mambi, Oriente, Cuba on September 2, 1932 to the late Angel and Fortuna (née Monyera). He came to the US in 1960 and lived in New York and North Bergen for the last 51 years. He was a retired office worker for Happang Lliod Export in New York.
Visiting Hours on Sunday, April 14, 2019 from 6 to 9 PM at Konopka Funeral Home, 9046 Palisade Avenue,North Bergen,NJ.
Funeral Service on Monday, April 15, 2019 at 10AM at the Funeral Home. Private Cremation.