Immediate Need:
(201) 865-0923

Burial Merchandise-Caskets
Choosing the right casket is often one of the most challenging parts of the funeral process. Whether you are doing a pre-need for yourself or picking one for a loved one, there is a lot to consider. Caskets come in a variety of metals and woods. We have caskets to accommodate whatever your need or budget might be.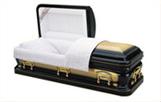 Premium Metals, Solid Bronze and Solid Copper Caskets
Many people prefer the durability of the heavier metal caskets. They are elegantly designed, both inside and out. Amongst the metals to choose from are copper, bronze and stainless steel. All our caskets are strong, durable and water and air resistant. Bronze and copper also have the added benefit of not rusting.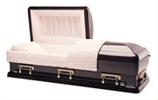 Standard Metals, Stainless Steel Caskets
All of our heavy weight steel caskets are protective and designed to temporarily resist the entrance of air and water. Constructed from stainless steel, these caskets are rust-resistant, combining lasting protection and striking beauty in a variety of exterior and interior colors and finishes.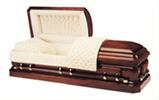 Solid Hardwood Caskets
All our hardwood caskets are made with expert craftsmanship. We have many excellent woods to choose from. Included in our inventory are mahogany, oak, pines, oak and cherry. Many people prefer the elegant look of a wood coffin and the natural, warm tradition feel.